How to Easily Migrate Your WooCommerce Store with Users Import Export WordPress Plugin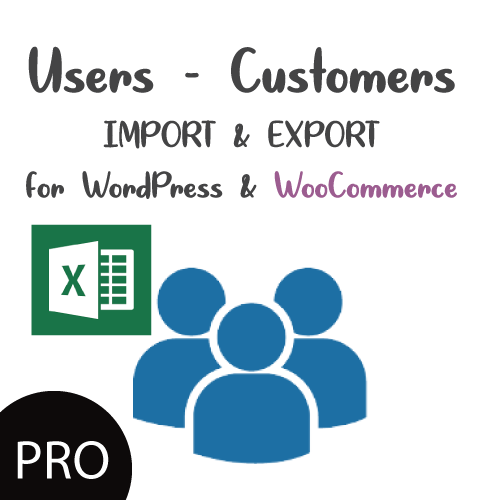 Categories: woocommerce, wordpress plugins
Tags: woocommerce store migration, wordpress plugin

The Only WordPress Plugin You'll Ever Need
WordPress is the world's most popular Content Management System by far, with more than 409 million people viewing over 21.1 billion pages a month.This is surely why you use the CMS giant, and if you're like most businessowners and web developers, you're constantly searching for WordPress Plugins that will make your life easier.
Need to Migrate Your WooCommerce store?
If you've got hundreds if not thousands of customers, how long would it take you to get the job done and create users…one by painstaking one? We don't want to think about that, so we made a groundbreaking plugin instead!
Meet Users-Customers Import Export with Excel for WordPress and WooCommerce – the ultimate plugin for WordPress and WooCommerce migration!
Users-Customers Import Export with Excel for WordPress and WooCommerce was built to help business owners and website developers import and export with excel for WordPress and WooCommerce, with superior WordPress and WooCommerce migration. In fact, you can migrate thousands of customers in one shot, quickly and easily, making store migration a breeze.
Driven by AJAX, this WooCommerce store migration plugin is secret for updating fast, dynamic web pages. Get ready tomigrate Your WooCommerce store with confidence! Such advanced technology means you can import or export all of your data on-the-spot without delays or inaccuracies.
We specifically designed Users-Customers Import Export with Excel for WordPress and WooCommerce for businesses and entrepreneurs who manage their own website, and are looking for something that's easy-to-use yet powerful enough to make a significant difference.
Import and Export: Bring customers in and out of Excel in seconds. Import and export WooCommerce or custom meta data too – with all supported fields.
Create Unlimited Users: There's no limit on how many new users you can create, along with their meta data, all in one shot.
Notify: Adding users? They'll be alerted via email when you do.
Easy Backup: We believe this one speaks for itself!
Data Mapping: Drag and drop content for upload in seconds.
Unobtrusive: Run your WooCommerce store migration plugin discreetly in the background so you can get on with more pressing matters. Sophisticated optimization means it can run forever without limits or server/PHP timeouts
Filter: Filter users by role or creation date before importing or exporting. Pick the fields you want to show at the press of a button and bring your user list into excel in no time!
While you might find "similar" plugins online, Users-Customers Import Export with Excel for WordPress and WooCommerce is the only of its kind that's:
So cost-effective
Accompanied by personal customer support
When looking at the benefits you're getting, €42 is a small price to pay for one domain with this game-changing plugin. Get 5 domains for €92, or 15 for €152.
Hurry and purchase now – this limited-time offer won't last forever.No more wondering how to migrate a WooCommerce site. We're sure you'll enjoy using this plugin just as much as we enjoyed building it.
Migrate your WooCommerce store with ease today!