How to sell more with an eyeglasses tester simulator – virtual try on plugin on your WordPress site?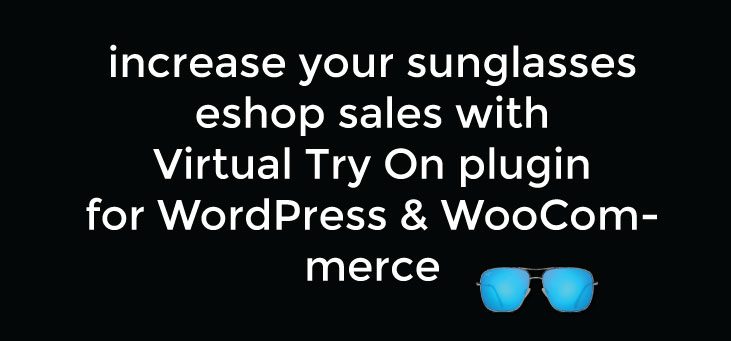 Categories: eyeglasses tester, glasses simulator, virtual try on sunglasses
Selling only is becoming more and more challenging nowadays – glasses and sunglasses stuggle to compete to convince users buy their product competing in a huge market.
Product Virtual Try on for WooCommerce plugin can help you achieve your target by allowing your users try sunglasses online – if you are into sunglasses industry- , help them add to cart!
A Virtual Try on Sunglasses plugin for WordPress and especially WooCommerce is an app that provides an interface for showing off the products you selected to put into that interface and you actually want to promote and the end user can test me out.
Providing a means of 'try the sunglasses online' can
lead the users more easily buy your product
provide more credibility to your brand
make you stand out from competition
HOW Product Virtual Try on for WooCommerce Works
Your potential custom will navigate to the screen where you place the virtual try on sunglasses app.
He/she will be able to upload one of their own images – of their face – which will be in the background
They will be able to view the images of sunglasses you selected to have in the app.
By clicking on each image, this will be transferred to the showroom area.
The potential customer will be able to rotate, resize and do other multiple transformations and in the end also take a screenshot of the viewed result. All these may help your user decide and this can lead to extra sales.
Get Virtual Try on for WooCommerce here
1) Once you install the plugin, navigate to MyWooCommerce Showroom Settings page & define your business case as "glasses" – virtual try on show room is also applicable in other cases like furniture industry for example.
2) Select what products – sunglasses to show. Either it will be images directly from media gallery with now background, or any images from post type you select. More importantly for an eshop , if you select the product post type images from your products will be shown. An important feature here is that the plugin creates an extra field for each product if your main feature image is with background – for better results you need images with no background.
3) You can select category that your sunglasses are in, the number of sunglasses to show in the showroom are.
4) Once you are satisfied you can use a shortcode to any page you would like the Virtual Try On Sunglasses tester to appear.
5) Another important feature when you select glasses that are defined as products is that you can have an 'add to cart' button appearing in the showroom for each product, so once the user tries it and is satisfied, can directly add to cart from this screen.
6) Last but not least, the Virtual Try On Glasses simulator can also be in the single product page – if products are selected – a "TRY Button" will appear next to add to cart form.
lead the users more easily buy your product as they can feel more safe about their choice
provide more credibility to your brand
make you stand out from competition
Now this is your chance to market better your sunglasses product through an online presentation – eshop, providing a means for your customers to try the sunglasses virtually, test them and feel more secure about their purchase.