Description
Are you struggling with your Products Stock Management & maintaining you business Inventory , selling at the same time in your retail store and your WordPress eshop?

Are you lacking a Customer Relationship Management System for your Web Clients?

Get WooCommerce extension CRM ERP
for your WordPress Store & benefit the most now!
with the PRO ADDON!
eshop Products integration
Orders Invoicing System
eshop Customers Integration
eshop Sales Reports
unified Product Inventory
Wholesale prices
Helpdesk support system
CRM ERP WOOCOMMERCE INTEGRATION FEATURES & BENEFITS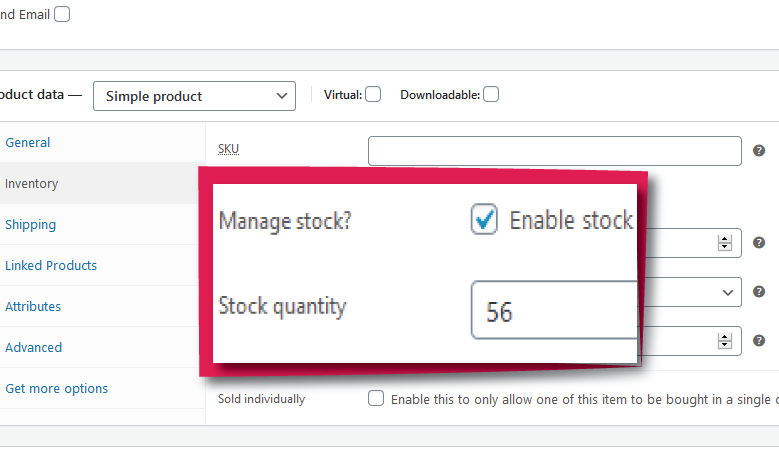 1 PRODUCT INVENTORY!
---
Keep same inventory for Offline Transactions and WooCommerce eshop by integrating WooCommerce products into your CRM ERP plugin.
This way once you record a new Offline Sale to customer or Purchase from Supplier Transaction from CRM ERP, products Stock will be updated . Never run out of stock!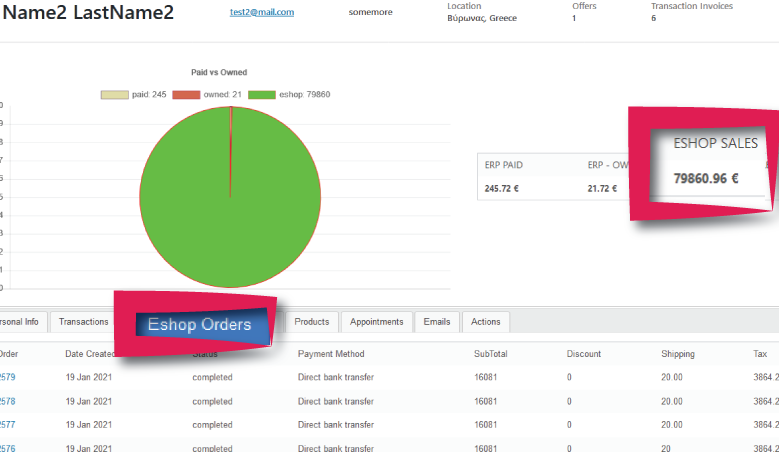 WOOCOMMERCE CUSTOMERS INTEGRATION
---
Integrate your WooCommerce Customers into CRM ERP Business Solution system for WordPress &
Track Activity they have with your site
use them for your Offline Transactions
Check Statistics, Reports & Eshop Customers Accounting Balance
view each Customer WooCommerce Orders in record page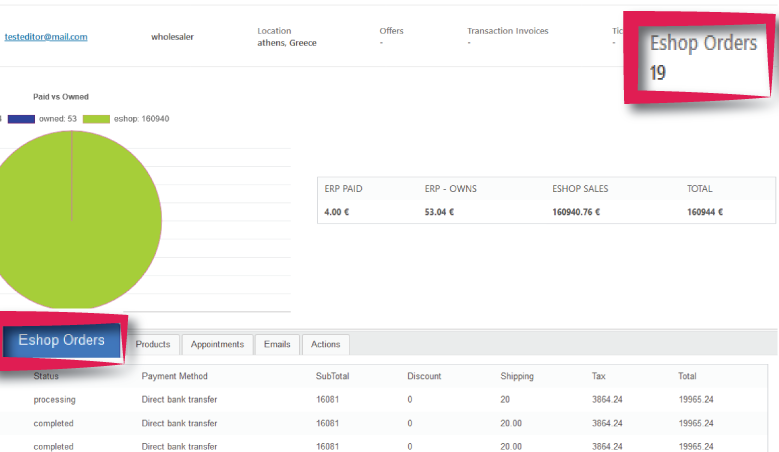 WOOCOMMERCE ORDERS INTEGRATION
---
View all Orders Details of each Customers at their Record Page
get a Total number of Orders
Get a Total Amount of Orders for each Customer
display Orders Total in Customers List Page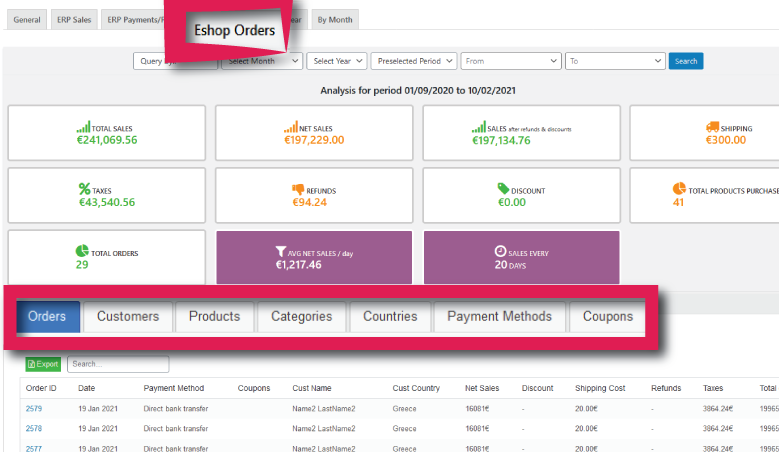 WOOCOMMERCE SALES REPORTING
---
Integrate WooCommerce Reporting into CRM ERP and get a Unified Complete Reporting System to run the business Better.
You will get Sales Reports by Date,
Sales Reports by Customers,
Sales Reports by Products Bought,
Sales Reports by Country,
Sales Reports by Payment Method,
Sales Reports by Product Category and more!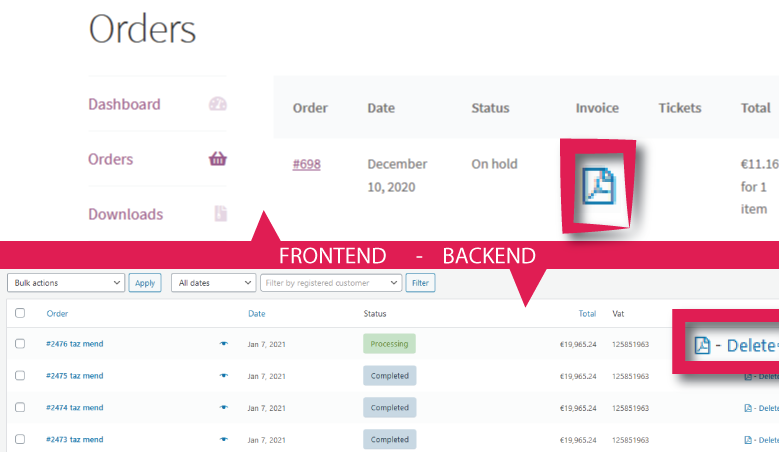 ORDERS INVOICE SYSTEM ESHOP
---
You are lucking Invoice System for your ESHOP? or you prefer less plugins for your WordPress installation?
Integrate CRM ERP Invoicing System for your WooCommerce Orders.
Once an order is placed Invoice Pdf can be auto attached to completed order email.
your Eshop Customers will be able to download their Order invoices from their Account Page.
More features that Work well with CRM ERP including PRO ADDON Extension!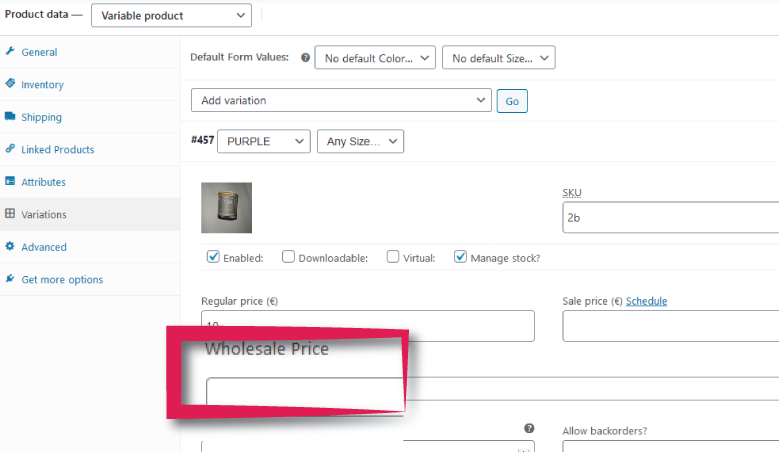 PLACE PRODUCTS WHOLESALE PRICES
---
Place WholeSale prices for Simple Products
Place WholeSale prices in each Variation in Variable Products
having CRM ERP Pro Addon installed: Using WooCommerce Product in Offline Transaction, wholesale Price can be Applied Automatically
Sell Wholesale in no time!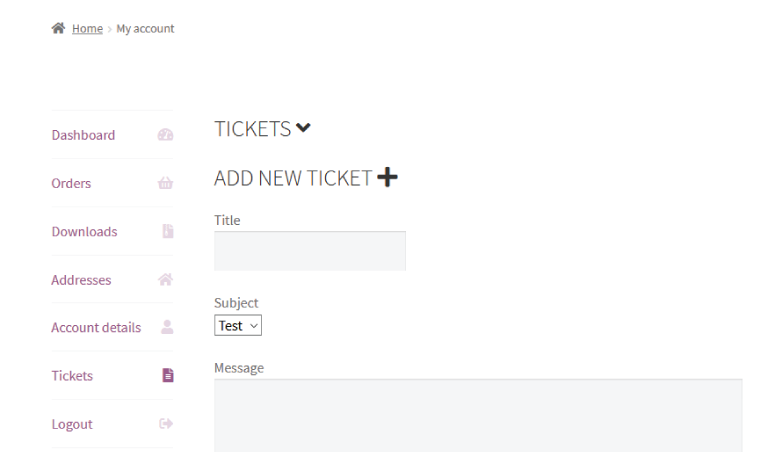 FRONTEND SUPPORT TICKET SYSTEM ( needs PRO Addon * )
---
You need a HELPDESK SUPPORT TICKET system for your WooCommerce Customers and manage any issues or complains?
get a Frontend Submission Ticket System
This intuitive system will help you track any issues,
provide better support and boost your business.
All in one with the CRM ERP PRO Addon support ticket system that is used for also backend use!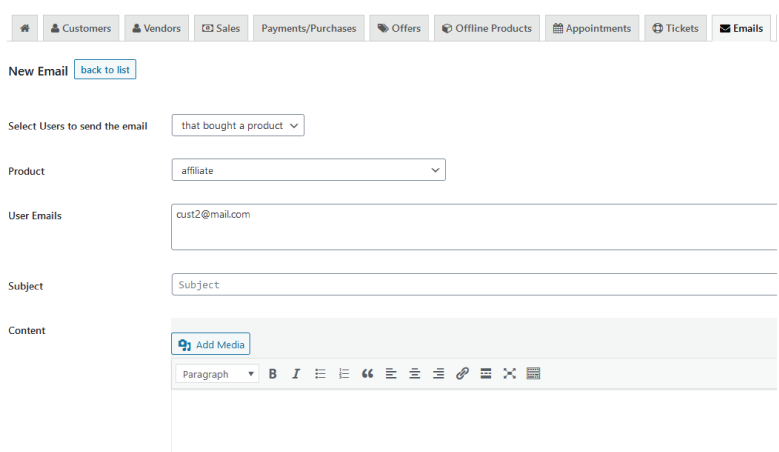 Bulk & Personal Emails to WooCommerce Customers
---
This feature need CRM ERP Pro Addon Email Functionality
easily target WooCommerce Customers in Bulk Emails
send Bulk Emails to Customers that bought a Specific WooCommerce Product – simple or variable
send Person Email to WooCommerce Customer, directly from the customer Record Page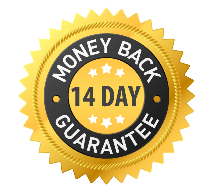 100% No-risk Money Back Guarantee!
If the plugin doesn't meet your requirements, you can get a refund within 14 days of purchase.