How to use PDF invoices for WooCommerce Orders with CRM ERP
In this tutorial we will demonstrate how to use PDF invoices for WooCommerce Orders with CRM ERP in WordPress using CRM ERP WooCommerce Integration for CRM ERP Business Solution for WordPress and WooCommerce.
First of all make sure CRM ERP WooCommerce Integration is active and working.
HOW DOES CRM ERP INVOICING WORKS WITH WOOCOMMERCE ORDERS?
Once you activate Invoicing for WooCommerce Orders through Settings, pdf documents can be used.
WooCommerce Orders PDF Invoices will be sent – attached to Customers Completed Order Email
WooCommerce Orders PDF Invoices will be accessible from Customers my account page for download
WooCommerce Orders PDF Invoices will be accessible to Orders backend in WordPress for admin or shop manager to generate/delete them
CRM ERP WooCommerce Settings
In CRM ERP  / Settings, navigate to WooCommerce tab.
Here you will get various settings:
Enable Stock Inventory Update from Transactions: this will create a share inventory for WooCommerce Products from crm erp transactions & WooCommerce eshop orders
Enable Invoicing System: enables the CRM ERP Invoicing to WooCommerce Orders
Restrict Document Generation on EU only: allow PDF Documents only for EU Countries – based on user input during checkout
Activate Order Receipts:  this will name the PDF document Receipt & get different numbering from Invoices
Invoice/Receipt based on User Selection: PDF documents will be generated only if user selects during checkout / disable for always creating document
Add VAT field to checkout: this will add a VAT field when User asks for Invoice
Different Numbering for WooCommerce: you may choose to get different numbering from those Invoices generated by CRM ERP Sales
Document prefix:  you can add a letter, text as Prefix for your WooCommerce documents
Document Start Number: here you may change the document number and start again from the defined number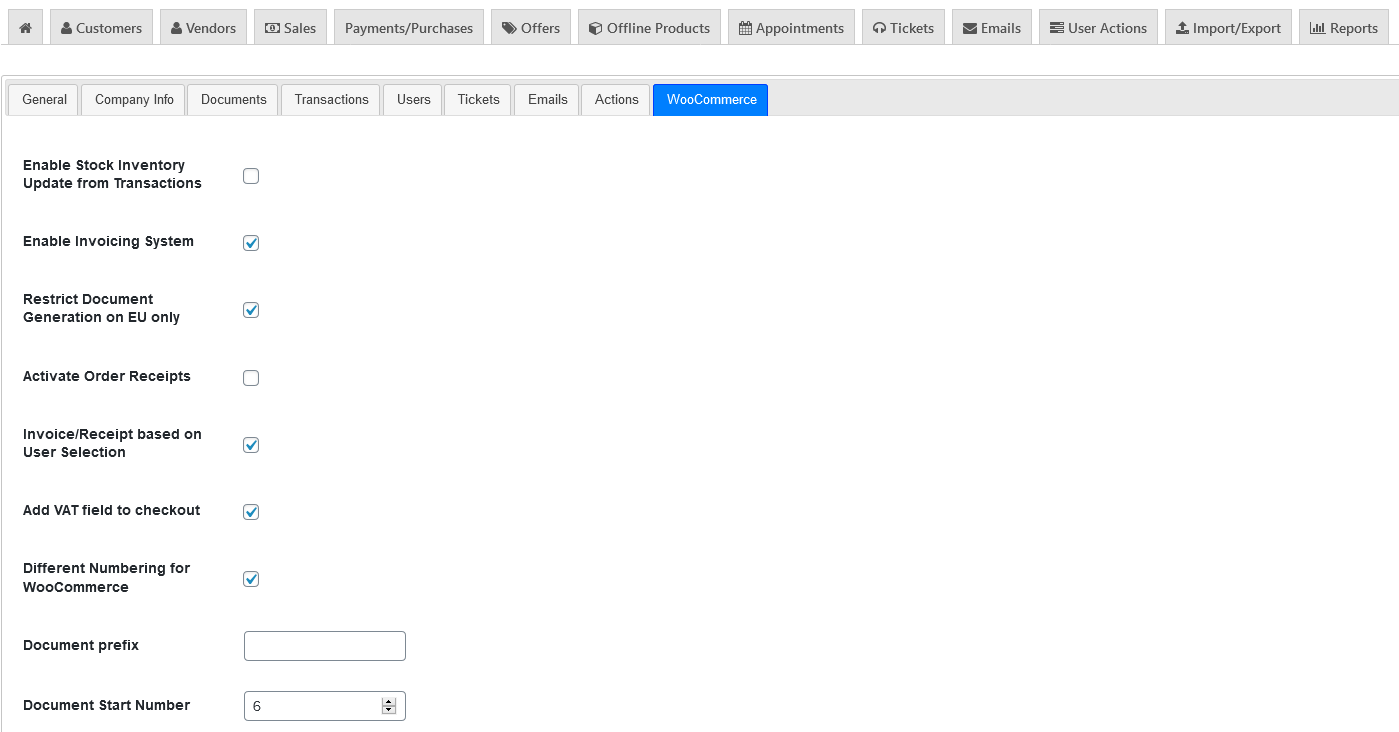 Activate CRM ERP PDF Invoicing System for WooCommerce Orders
As it has been already mentioned, activating the Invoicing System is very simple: just check the checkbox Enable Invoicing System  in CRM ERP / Settings/ WooCommerce

WooCommerce PDF Invoices as mail attachment
During checkout and once WooCommerce Order is completed, if CRM ERP Invoicing System is enabled for WooCommerce,
generated PDF Documents will be automatically attached to Completed Order Email to Customer.
Access to CRM ERP PDF Invoices for WooCommerce in Customer's My Account page
Customer , if registered on your website during checkout, will always be able to locate PDF Invoices for the Eshop Orders made and download the PDF Document.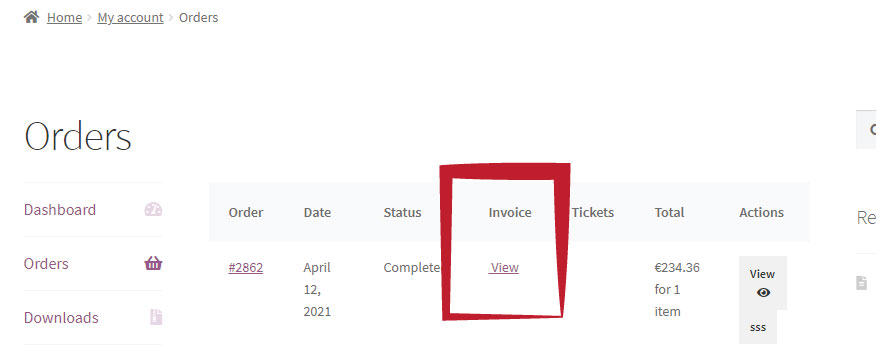 Access to CRM ERP PDF Invoices for WooCommerce in WordPress backend
Administrator or Shop Manager Will always be able to View the pdf documents generated, or delete from WordPress backend through WooCommerce  / Orders  main list from newly created Column, named Invoice.