How to get Advanced queries Sales & Payments Reports in CRM ERP for WordPress
In this tutorial we will demonstrate how to get Advanced queries Sales & Payments Reports for CRM ERP in WordPress using CRM ERP PRO Addon for CRM ERP Business Solution for WordPress and WooCommerce.
First of all make sure CRM ERP PRO Addon is active and working.
CRM ERP PRO Addon will allow you to get some more advanced reporting and target better results to manage your business.
You will be able get reports by:
User Segment
Product Bought
User – customer/vendor
Product Category
SALES / PAYMENTS CRM ERP Reporting
In Sales or Payments reports once CRM ERP PRO Addon is active you will get a drop down in the filter form where you will be able to perform queries and get reports based on all the above mentioned.
See an example of ERP Sales screen  – Reporting / ERP Sales tab:

At the same time you may filter the results by dates as well.
Once pressing Search you will get the needed results by customly defined segment, user, product bought or product category.
SALES REPORTING BY SEGMENT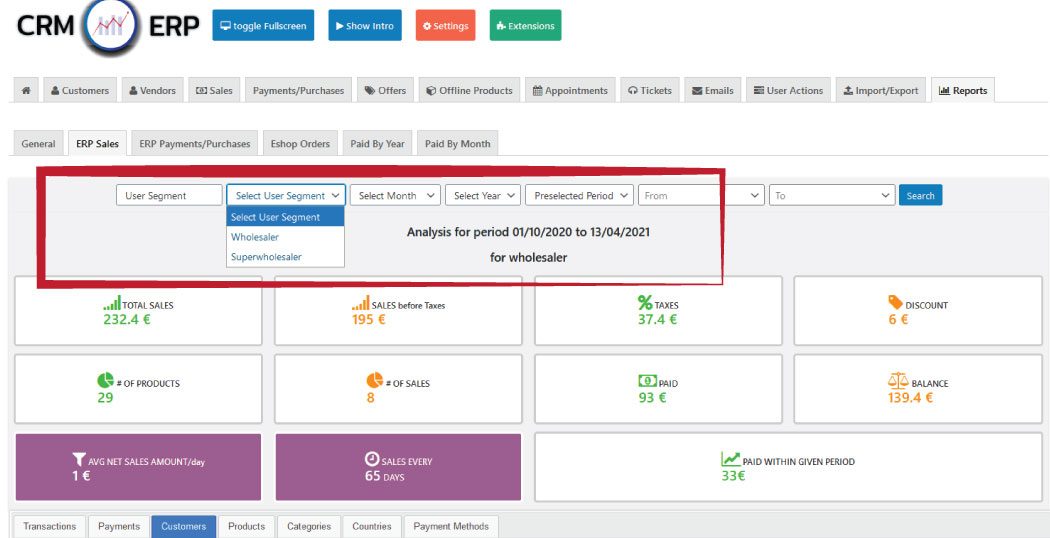 SALES REPORTING BY PRODUCT

SALES REPORTING BY CUSTOMER

The same results you can get in CRM ERP PAYMENTS Reporting, but this time Users selected will be Vendors/Suppliers
CLEARED PAYMENTS REPORTING BY YEAR/MONTH
Paid by Year and Paid by Month (CRM ERP Reporting / Paid By Year or Paid by Month tab) provide you with totals of each month or year for Sales Transactions, Payments Transactions and WooCommerce Orders if you are using WooCommerce and CRM ERP WooCommerce Integration is active as well.
Here you can filter by:
User Segment
User – customer/vendor
Here are examples of the Paid by Year tab:
PAID BY YEAR PER USER

PAID BY YEAR PER SEGMENT